Last week I told my lady doctor that I was sleepy a lot and I was worried I was skirting the line of anemia again. When I donate blood the part where they test iron levels is always a gamble with me. Sometimes I make it farther, sometimes I don't. Sometimes when I do the iron test I play I fail because I don't really want to donate blood but the Red Cross is run by bullies and trick me in there twice a year.
Me: Hmmm. Who is calling me? Maybe it's my boss…. Hello?
Call: Hello Abbey! This is the Red Cross
My brain: SHIT SHIT SHIT!
(Then I agree to donate because I don't want to be rude.)
When I told my doctor I was worried about my iron levels it never occurred to me that they would need to test me for it and that's how I ended up getting bloodwork done. Tuesday mornings really aren't complete without SURPRISE BLOODWORK.
Anyway they called and said I'm not iron deficient. No, in fact I am vitamin D deficient.
I laughed. Hard.
You mean I'm not getting enough sun? The queen of sunscreen has vitamin D problems? No really, what's this really about?
They explained some reasons that I might be deficient. I told her that if I time traveled to the Britain 1837 I would be considered royalty and no one would gaze directly at me. I know exactly why I am vitamin D deficient.
After I got off the phone I immediately turned to the internet. Thirty minutes later I realized I was on WebMD reading about rickets. Aaand now I'm pretty sure I have rickets. All my bones are about one sneeze away from disintegrating. (Everyone seems convinced that I don't have rickets but that's the same thing they said when I was convinced I had testicular cancer.)
Is there a point to any of this other than explaining my massive hypochondria? No. I just want you all to know that my War Against the Sun has reached a new level. Not today, Helios! (This is where I was about to insert a picture of Kratos ripping off Helios' head but this is a family blog!) (Or…. I was sure only 2 people would understand.) (Screw it, this blog needs more pictures!)
I'm not sure if it's coincidence or FATE but the news story going around is about a leather faced crazy lady who let her daughter tan in tanning beds. Was the girl really burned in a tanning bed? Who cares? She got sunburned so bad she was in crazy pain. At 6? And have you seen this mom? She looks like she is running around in black face. Whether she put that little girl in a tanning bed is irrelevant. She put her daughter in danger of CANCER. Yes guys. CANCER. Getting sunburned that young and/or ofter makes you at risk every time. Sun or tanning bed.
It is hard to express my anger over all this. I get it, being tan is awesome and makes you sexy. Being pale is gross and makes people spit on you in public. It gives you vitamin D so you don't die of a debilitating case of rickets. But kids don't need to be tan.
And in case you haven't figured it out, Toddlers and Tiaras makes me want to punch people in the neck.
What is the lesson? I need Flinstone vitamins and anger management classes. And your children need sunscreen. And you need sunscreen. Everyone needs sunscreen. The sun is evil and trying to kill you. Please take this photo as evidence: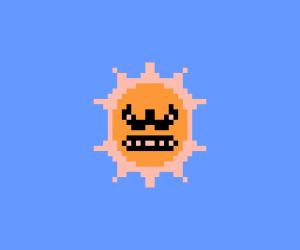 The sun is bright and full of terrors
I would like to point out the I Googled the title of this post to be sure I spelled boneitis correctly. I typed in "my only regret is" and it auto filled the rest. I'm not sure if it is Google knowing me too well or the rest of the Internet being awesome. Either way, high fives for everyone.