Seriously, guys. Michael Fassbender's face. LOOK AT IT.
I have been watching X-Men: Origins and just fascinated by his skull. If I was any good at painting I would paint him in all of his glory. Oh wait. Hold on.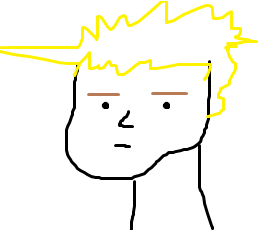 NAILED IT!
What's going on? Am I blogging? I need a topic. Would you guys sit around and read 1000 words about perfectly sculpted cheek bones? I'm sure one of you might but I can't only please one reader, I have to please both of you.
I've just been sitting around working on my writing. I subscribe to the Stephen King theory on writing. I am writing a lot and reading a lot. Sadly it is nothing anyone will ever read ever. EVER. I submitted something to an online publication and I have been waiting for their reply. About a day after I submitted it, I finally let Hoppie read it. He read it over and said, "Oh, typo. Typo. There's a–" "Don't say typo!" AAAARG!
Can anyone explain this to me? I refuse to let people proof read my work. I get all twitchy and upset while they read it. But if someone said, "Yes. Let's publish this." I would plaster my social media with my awesomeness. I'm pretty sure my need for validation comes into play but let's pretend this is a deeper, more wonderful problem. Like dragons.
So I have been trying to work on my proofreading skills (not on the blog clearly #selfburn) and just writing things to write. It isn't going well. Fiction, nonfiction and gibberish. So much writers block. I'd ask people for suggestions but we all so how well that went. And that is also why this post seems so disoriented. My brain feels like mush and I am just happy the sentences are coming out in English!
So, basically the plan is to write a lot more. Why? Just because. I like doing it and I'd like to think I am pretty good at it. I've actually been looking at self publishing for my novel I've been working on. It worked for 50 Shades of Grey right? And my book is pretty much the exact same, just no poorly researched BDSM, lack luster characters or heavy handed Twilight references. The only flaw in my self publishing plan is that it requires two of my least favorite things ever: proofreading and rewriting. Why can't all my words just flow out perfectly?!!
I hope everyone has a wonderful holiday weekend. Memorial Day is the unofficial anniversary of Hoppie and I's relationship. It was when the Are They, Aren't They, Of Course They Are crap started. It involved Appletinis, tiny people made out of mini corndogs, and a cream colored PT Cruiser. It sounds both weird and dirty out of context but it also sounds like a thrown away Kenan and Kel joke.
AWW HERE IT GOES!